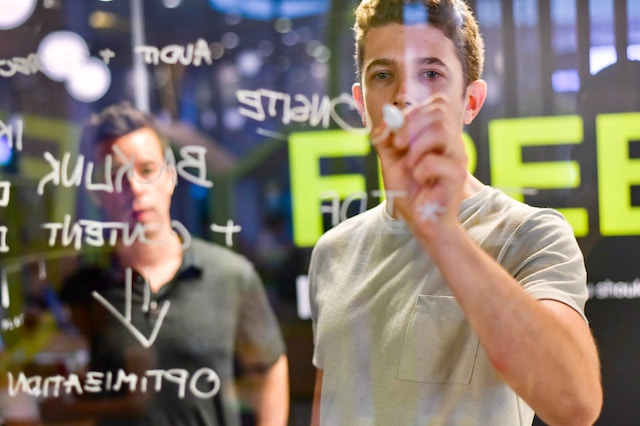 02 May

Should You Add Twitch Mobile Streaming To Your Influencer Marketing Strategy?

Let's talk about your Influencer Marketing Strategy and how Mobile Game Influencers can be a large part of that strategy for your next game. Prefer to watch it on video? Just click Play below. Otherwise, keep reading below the video.

By now, you have certainly been told that if you are creating a game, Influencer Marketing needs to be a part of your marketing plan. In case you are still not convinced, let's look at some data. Worth just $2 billion in 2017, the industry is set to reach $10 billion by 2020 as the industry witnesses more growth and becomes a more effective marketplace.
What does it mean for you as a Game Creator?
The slide below is from "think With Google".
We already know that anytime a friend recommends something, be it a restaurant or a product of some kind, we listen right? We listen because we have developed a relationship with them and we trust them. That fact makes the data on the above slide pretty surprising. 70% of Subscribers say they relate to creators more than traditional celebrities. Ok this part is not that shocking since good creators should be listening to and building relationships with their communities. But this next part is what I find surprising and the part you as a creator need to pay attention to. 40% of millennial subscribers say their favorite creator understands them better than their friends. I'm not sure this is really possible, but if millennials believe it, then we definitely need to understand this and take advantage of it in our marketing plans.
But why should you worry about game streamers while you are creating a game?
Let's answer that by looking at 3 compelling reasons
Customer Acquisition and Customer Feedback – If you have a Beta release for your game, which you definitely should have, also having an early release on Twitch can give you tons of customer feedback for improvements before your full release.
Customer Retention via Twitch Drops - Drops are in-game rewards you can grant to your gaming communities, natively within the Twitch viewing experience.
Increased Engagement - Twitch Extensions - overlays that can be built on top of a stream. They can be used for game quizzes, surveys, showing leaderboards, etc. Interactive streams are also possible when extensions are tied together with 3rd party SDK's like Genvid. Interactive streams could allow users to follow a different camera/character, change skins, etc. This type of Custom Content, Increases Engagement and grows the following for the game.
What should you Consider In Regards To Streaming When Making Your Game?
First, you must make your game streaming friendly (Pick up and Play Games with great replay value are best for streaming). Linear games or games with a steep learning curve are not ideal.
Second, Obviously you must have good engaging content.
Third, Build in some custom content just for influencers. It gives you a leg up in discussions and gives them a way to show something unique to their audiences.
Fourth, Add Twitch APIs
Finding Your Ideal Streamer
You want to Find Streamers the right size, not too large that would ignore you, and not too small that they would not help your reach. We suggest to Look for streamers with between 150 and 3000 viewers. You can use sites such as twitch-tools and sullygnome to search for titles similar to yours and filter by min/max viewers.
Consider which platform and type of content is best. Youtube gamers or celebrity you tubers? Youtube gamers vs twitch streamers vs eSports players. - Twitch vs Mobcrush
Study the influencers outside of their channel, discover their personality and find one that fits with your brand.
Do some research and find the best way to contact them (Twitter, Email, etc.). Contact them and let them know why you think your game would be a good fit for their audience. If you created custom content, make them aware of it or discuss the option of making custom content just for them.

Prep Time
Before the influencer begins, you will want to spend some time to Prep them to make the stream as well received as possible.
Some influencers will want to play beforehand. Others will want to discover the game as they play the first time for their audience. Regardless however, you should provide video game play and guides for game play. You should provide a cheat sheet with release dates, platforms, price, and a little about your story.
Talk with the Influencer and try to Join the stream if they agree.
You can Field Questions and get invaluable feedback from the audience.
Follow Up
Follow Up With a Thank You. Keep the communication lines open. Most streamers will know other similar streamers and might be able to help you build your contact list.
In Summary, if you are currently building or thinking of building a Pick Up and Play style game, make sure you keep Mobile Game Streaming Influencers at the top of your Influencer Marketing Strategy.
Interested in diving deeper into Influencer Marketing and Mobile Game and App Marketing as a whole? Check out our Complete App Marketing Course.