19 Apr

5 Solid Reasons Why Emojis Can Power Push Notifications

Emojis have dramatically changed the way we communicate with one another especially when using our mobile devices. We use them everyday to interact with people and to get across our emotions through texts, emails and social media comments or updates.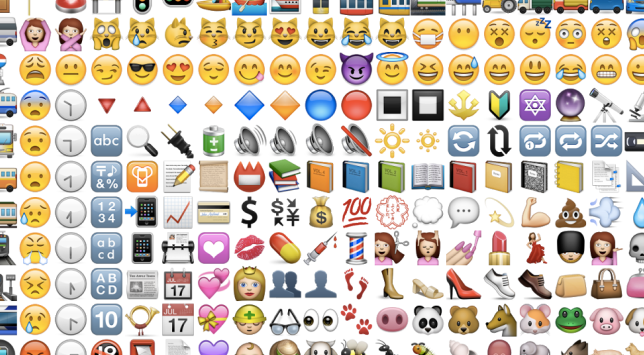 Recent data revealed the ability of emojis in extending huge boosts to push notification open rates. With push notifications powering the re-engagement campaigns of mobile apps today, adding some emoji flair to it is something app marketers and developers should focus on.
It is about time that we put the charm of these little images to good use and create powerful push notifications that are both engaging and fun for the users.
So, why should you add emojis in push notifications?
1. Emojis can increase push notification open rates by 85% 📈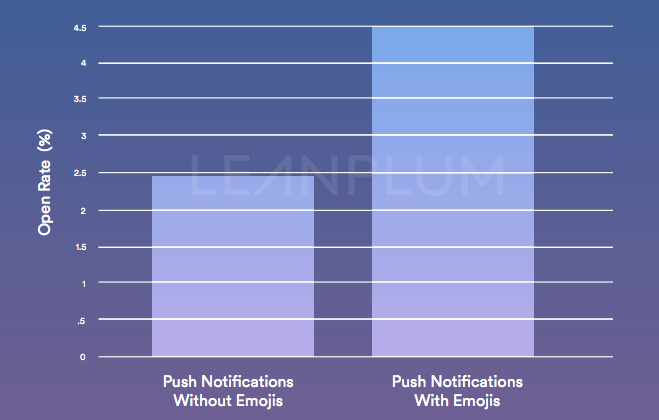 image by Leanplum
Based on the study conducted by Leanplum and App Annie, push notifications with emojis enjoy an open rate of 4.51%. It is a lot higher when compared to the standard 2.44%. It can be easily converted to an 85% increase in your app's push notifications campaign.
Emojis help messages stand out and allow us to get our own emotions across effectively. Using emojis can help intensify user engagement and ensure continued app adoption. It can also reach a wider audience and that can raise sustained awareness for your app.
Emojis can back you up with a strong marketing strategy that can leave a direct impact on your app retention plan and maximize your app's profitability.
2. Emojis resonate 😍 through human emotions
Emojis can add an element of emotion to your rather boring notifications. It is something simple words cannot deliver. This is primarily due to the fact that human brain processes emotions as non-verbal communication. Which is the same exact reason why people are reacting quickly and positively to notifications with emojis. And it explains why emojis are popular in the first place. Check out this book on How To Speak Emoji.
Users love catching a sight of emojis on their screens as much as actually using them. You can measure this through open rates or scientifically by using psychology. Given that, there is a strong reason for app developers and marketers not to ignore this new trend in their marketing and retention strategies in order for them to stay relevant and wanted.
Put a dash of color and playfulness to your notifications. Tapping on the emotional side of your users is always rewarding. For instance, emojis can easily change the mood of your users. Users will most certainly click and open a notification that makes them feel warm and fuzzy. Plus, they will be delighted with your app if they see that you know how to take things lightly.
Aside from the emotional bond that can develop between your app and its users, emojis can also strongly influence their buying decisions. We know that people are easily coerced into buying something not by logic but mostly by emotions. Emojis can create that emotional connection.
With all these emotion-driven ideas you can do with emojis, your promotions will become more personalized and your message will get extra clarity, two things users value most.
3. 💁🏻Users speak emojis especially millennials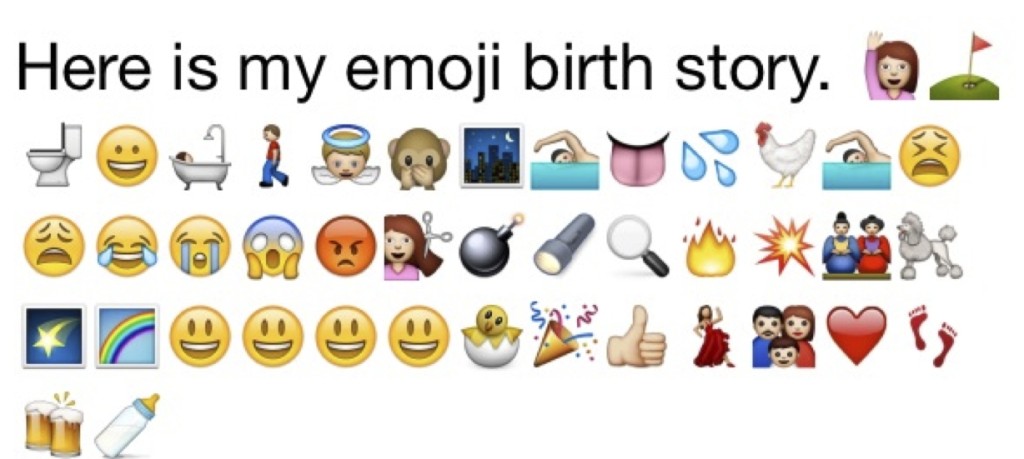 From the same study made by Leanplum and App Annie, millennials turned out to be the most engaged user age group with emojis. Just by how much? Users between 13 and 24 years old spent 20% more time in apps after opening an emoji push notification than the average 25-44 year old. The gap even widens by more than 70% when compared with users over 45 years old.
Emoji usage climbed 163% in 2016 while the collection of emojis available for use also increased by 108%.
Apps have specific target demographics but if you want to woo the younger generation, who, actually comprise a large part of the total mobile users, then emojis should be part of your marketing plan.
Marketing these days needs to be on the personal level in order to be noticed. This is specifically true for mobile apps, due to the fact that mobile is a personal medium. It means that marketing messages get to users no matter where they are or what they are doing. And all of that happens on the same device they use for personal communication. We can conclude that regular push notifications alongside messages from friends or family can and often do go unnoticed. By using emojis you can lighten up the mood and make your push notifications look natural and fun.
4. Less text, easier to read 👓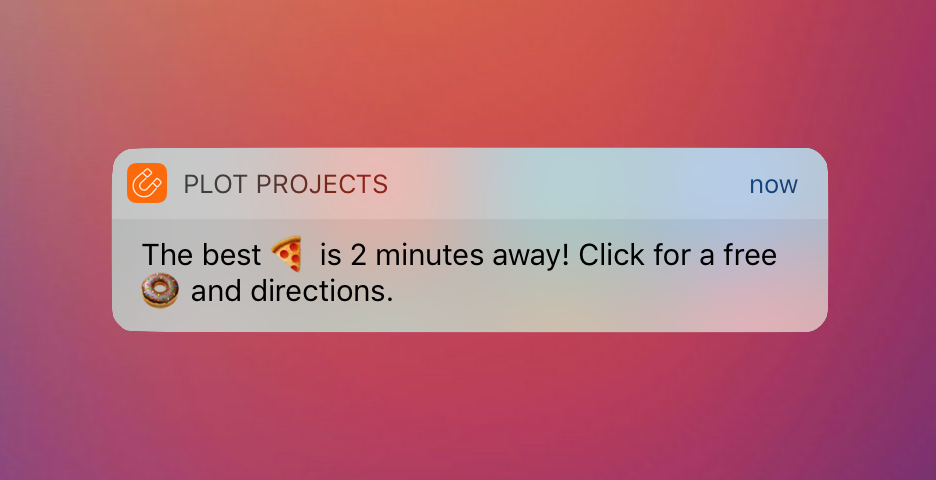 image by plotprojects.com
One of the reasons why emojis are popular among users is that they can convey a lot more words than what the actual words do. Incorporating emojis in your notifications can increase readability significantly while using less text.
Users don't have time to read lengthy notifications and your goal is to let them get your messages even with quick glances. Studies revealed that a human brain lights up the same way as when someone sees a real person's face everytime they see emojis in messages. The brain processes emojis as non-verbal communication as we've already mentioned and associates them with emotions. That makes them a perfect and concise solution to effective push notifications.
5. Android users demonstrates higher inclination to emojis 📱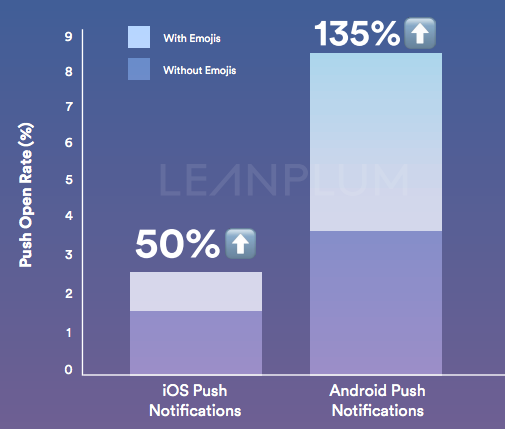 image by Leanplum
If you are an Android developer, emojis can single handedly push your engagement strategy to the next level. The effect of emojis on app engagement in Android is more astounding than in iOS. Android users are enjoying the visual delight offered by emojis more because, push notifications in Android stick around longer in the notification screen. It gives users more time to see the emojis which would make it an enticing way for them to eventually open those notifications.
In numbers, push notifications with emojis in iOS were opened 50% more than the usual messages while, in Android, a whopping increase rate of 135% was recorded.
CONCLUSION
Adding emojis to your push notifications can be easily accomplished with the help of various advanced tools in the market today. But, still a lot of developers are not taking advantage of this cool feature.
We've seen how effective emojis were in conveying emotions and connecting to users. They can offer a lot better option than just simple text that we were used to in push notifications. Sending such content that resonates to an emotional level plays a huge role in today's app engagement. On top of that, we've learned that the only way to get noticed in this never ending battle for user attention is to move a notch deeper and get more personal in your marketing strategies.
Start sending out coupons, free coins or any of your latest promotions now and supercharge them with emojis. Just be sure not to fall into the trap of overusing this feature. Also, always remember to personalize your content and carefully plan your delivery time. Lastly, always bear in mind that relevant messages are key. You may consider using emojis as giving your best impression, but it's always the content that sticks.
If you enjoyed this post, sign up for our list to get future updates. Subscribe now!